F1's Christian Horner: 'We don't have a de facto number one driver in our team'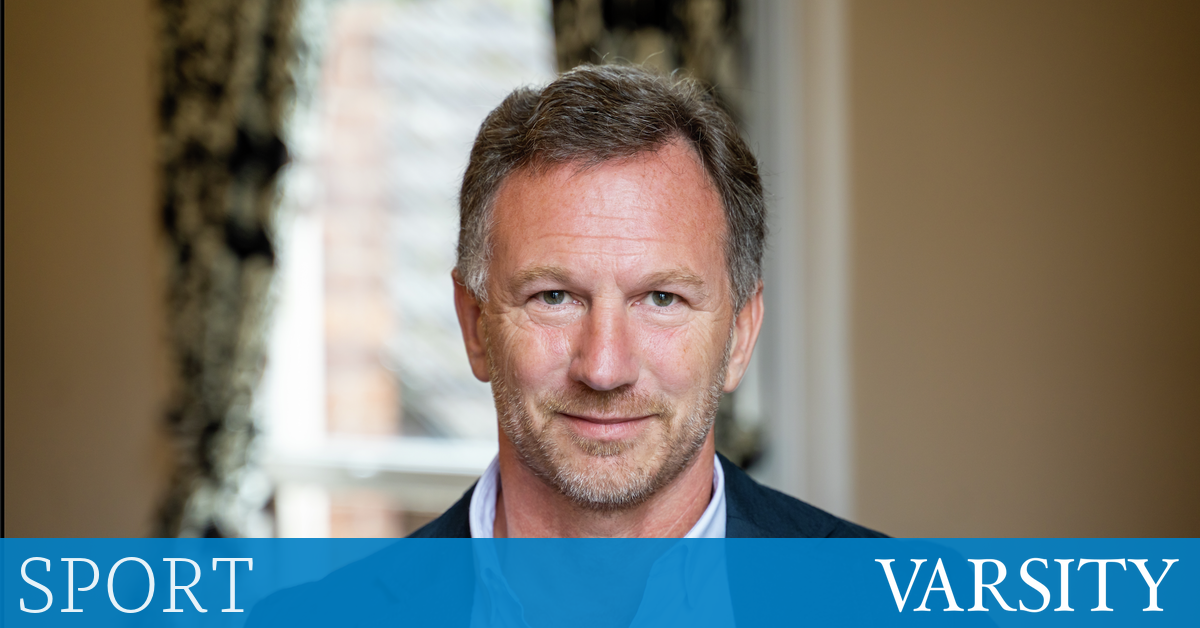 "A scoop for the Varsity newspaper," jokes Red Bull Racing's Christian Horner; not a far-fetched possibility when talking to a man with a reputation for speaking shamelessly. After a champagne-filled Grand Prix in Monaco last week, the team principal dives into the Cambridge Union pit stop to talk Formula 1.
Horner has been in the F1 game since 2005, taking the reins of a rebranded Jaguar F1 Team as Red Bull Racing. Under his leadership, Red Bull climbed to the top of the paddock in 2010 with a double in the constructors' and drivers' championship, followed by three more consecutive years of dominance alongside the immensely talented Sebstian Vettel. The introduction of the "hybrid era" in 2015 ended Horner's peace at the top, replaced by Mercedes' Toto Wolff – all six-foot-five dominating Red Bull atop the podiums for years.
Last year, however, everything changed. Max Verstappen won the Drivers' Championship under the now infamous lights of Abu Dhabi, with Horner finally having the last laugh. The Dutch champion has brought the same winning form this season, but Red Bull's Sergio Perez also claims the title, materializing on the streets of Monaco with an emphatic win and closing the gap to Verstappen in the drivers standings to just 15 points. . Horner suffers from a positive headache. Two drivers in contention for the title: what could go wrong?
Well, the story says it all, and Horner is all too aware of it. When it comes to managing two competing drivers, Horner believes "the most important thing is communication", explaining that "it's just important to play with a straight bat". He admits: "We don't have a de facto number one driver in our team, he's actually the one in front. But, at the same time, we still expect them to work collectively because, for the team, the Manufacturers' Championship weighs as much, if not more, than the Drivers', especially in terms of income. The businessman has spoken, but what about the fans who want to see the pair run?
"Obviously, going against Mercedes last year, they had a lot to lose, being the winning monster that they were and, of course, they didn't like to be challenged.
After a slight pause and an audible "uh," Horner replies, "Yeah. [they can race each other]. I think we just need them, when they go against each other, to respect themselves and obviously the team. We don't want them taking unnecessary risks. It's still very early in the season and we have a very competitive competitor in Ferrari, who arguably had a better car than us in the last two races, but we managed to beat them through strategy and reliability. . At this stage of the season, it's all about working as a team. »
The difference between Red Bull's current rivalry with Ferrari compared to last year's game against the now-suffering Mercedes is like chalk and cheese. The verbal jabs in the media were swapped for scenes of drivers laughing and joking with each other. "It's just a different feeling with the competition that we have with Ferrari," says Horner, "I think there's more respect, there's not as much going on behind the scenes, because last year there was there was as much activity off the track as there was on it.
"I think there is a respect between Charles [Leclerc] and Max; the fact that they've been running with each other since they were 12, that they know each other well, each other's traits and personalities, and there's a real respect in that. I think we saw that in the first races of this season. Inevitably, as the pressure increases, there will be more at stake in the second half of the championship, but the competition has been very healthy and some great racing so far this year.
It's hard to imagine the ever-calm Mattia Binotto, Ferrari's team principal, putting on a pair of boxing gloves and going 12 rounds with Horner in the media. So is there a part of the Red Bull boss who misses the Mercedes conflict? Horner replies: "Obviously going up against Mercedes last year they had a lot to lose, being the winning monster that they were and of course they didn't like to be challenged. Anything we could do to step into their shoes was part of the challenges and pressures, which finally paid off for us last year.
"F1's carbon footprint is high on the agenda of all teams and governing bodies, and I think collectively we will find good solutions without killing the sport's DNA."
Mercedes are 101 points behind Red Bull in the constructors' standings ahead of this Sunday's Azerbaijan Grand Prix (12/6), while seven-time champion Lewis Hamilton sits sixth in the drivers' standings. "I would rather they [Mercedes] weren't back for a little while," Horner admits with a smile on his face, "but look, they're a quality team, they've got great engineering skills and they'll solve their problems. [Their struggle] shows how competitive F1 is and how fast it evolves. He continues: "The cars are still very immature in this regulation cycle, so if Mercedes unlocks this performance they could well be a contender in the second half of this year."
Filling the role of Horner's training partner once held by Wolff, however, appears to be the FIA, F1's governing body. In response to new cost caps introduced by the FIA, which aim to limit spending by top teams in the interest of fair competition, Horner recently claimed that "around seven teams are likely to miss the last four races". [of the season] to enter the ceiling this year", calling on the FIA ​​"to solve the problem of inflation". "I think that [the idea of skipping races] was taken a bit out of context," refutes Horner, "what I was trying to demonstrate is that, for a team like a Ferrari, like a Mercedes, like a Red Bull, to reach the milestone, it would require a draconian strategy to measure to the point of literally having to miss races.
"Now none of us are going to do that, so the situation we have in the world with the way inflation is – God knows what it will be in the second half of this year – we have a real force majeure situation. where the cost of living and utilities have grown exponentially and of course it's fine for teams that aren't affected by the cap to say "well, suck it up", but it's is a real problem for the top end. The budget cap was never meant to be a communist state; it was meant to stop big teams from a spending spree. No one could have seen what was happening. going on in the world right now, so we just need to have a sensible and practical solution to that."
Continuing his focus on the big picture of the sport, Horner also weighed in on the sustainability of F1. It has been revealed that, among other goals for the 2026 engine, the FIA ​​is aiming to deliver a "powerful environmental message" based on switching to "100% sustainable fuel". Horner acknowledges that durability is "a key issue for the sport", but also applauds the immediate work done by the engineers: "It's interesting because we have some of the brightest engineers in the world and, indeed, how the cars are efficient are currently with the hybridization that we have, we are very bad at telling this story.
"I think what we can do with these new regulations is really push the technology and demonstrate what is achievable with fully sustainable fuel, and F1's carbon footprint is high on the agenda of all the teams and governing bodies, and I collectively believe that we will find good solutions without killing the DNA of the sport.
As Horner is quickly whisked away to film a clip for Union's TikTok, the cameras keep rolling for an undisclosed Netflix show heading into its fifth season after surviving a mediocre fourth. Horner is a media magnet, a ruthlessly skilled team leader, and also has a knack for delivering a decent scoop.