Proposals to Accelerate Grid Connection in the U.S. Get Unanimous FERC Approval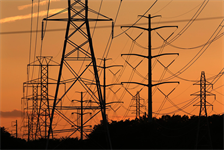 Vast amounts of new wind power capacity across America could be unlocked if reforms to reduce interconnection queues, proposed by the U.S. Federal Energy Regulatory Commission (FERC), are passed .
In a rare unanimous vote of approval, FERC proposed "first-ready, first-served" rules for groups of new production projects, rather than reviewing projects individually in the order in which applications are submitted.
FERC's proposal will now undergo public comment, followed by a final order, expected later this year or early 2023, and then – if adopted – regional implementation. .
At the end of 2021, there were more than 1,400 GW of generation and storage capacity waiting to be connected to the grid, of which more than 90% was destined for zero-carbon resources, according to the Queued Up study by the US Department's Berkeley Lab. Energy.
About 247 GW was wind power, of which 77 GW was offshore.
By comparison, total installed wind capacity in America was nearly 135 GW at the end of 2021, according to the American Clean Power Association.
Berkeley Lab notes that interconnect wait times have increased in many regions. For projects built in 2000-2010, it typically took about 2.1 years from connection request to commercial operation, but this increased to about 3.7 years for 2011-2021 projects, it says. he.
Wind projects also had a low completion rate. From 2000 to 2016, only 20% of projects awaiting interconnection approval were connected, according to the Queued Up study.
Rob Gramlich, founder and president of Grid Strategies, believes FERC's proposal will significantly improve connection rates. "These [proposed FERC] process reforms will allow tens of gigawatts of wind, solar and storage projects to connect to transmission systems more quickly," he said. "Clusters are groupings of projects that are studied together. This is better than the current separate analysis of each individual generator, where the results are based on what happens to each other generator.
But Gramlich pointed out: "The real solution is to plan a new transmission, because the root cause of the problem is insufficient capacity."
Gramlich, formerly of the American Wind Energy Association, said FERC's proposed rule would likely pass, noting that "a 5-0 vote is unusual."
Following the vote, FERC Chairman Rich Glick, a Democrat, said, "Today's unanimous action responds to the urgent need to update, accelerate and streamline our processes for interconnecting new network resources.
He added, "We are seeing unprecedented demand for new resources seeking to interconnect to the transmission grid and queue delays are hampering customer access to new low-cost generation."
How the FERC reforms will work
Under FERC's proposed "first-ready, first-served" cluster study process, transmission providers will conduct larger interconnection studies for many proposed generation facilities, rather than separate studies for each project. individual.
To ensure that grid-ready projects can move through the queue in a timely manner, transmission providers will impose additional financial commitments and readiness requirements on interconnection customers.
FERC commissioners voted to expedite processing of interconnection queues, with hard deadlines and penalties for transmission providers who fail to complete interconnection studies on time (except cases where "force majeure" applies).
A simplified process for studying interconnection requests must also be put in place when the requests all relate to the same solicitation of resources authorized or mandated by the State.
Technological advancements will also be incorporated into the interconnection process, for example allowing multiple resources to be at a shared site behind a single interconnection point and share a single interconnection request.
FERC also wants interconnect customers to be able to modify existing interconnect requests under certain circumstances, such as adding an on-demand generation facility, without automatically losing their position in the queue.
Transmitters will also have to consider alternative transmission solutions if requested by the interconnector customer, if the reforms are adopted.